Welcome Snowmobile Enthusiasts!
NHSA Grass Drags and Water Cross Event
Please join the NH Snowmobile Museum Association (NHSMA) this year at the NHSA grass drags and water cross event. We are located directly next to the (yellow gate). This event runs October 11th, 12th & 13th. Located at 152 Martin Rd. Fremont, NH 03044.
If you are interested in displaying your vintage snowmobile in our tent please feel free to contact us. Set-up is the afternoon/ evening of Fri. Oct. 10th. and breakdown will be Sun. Oct. 13th at the closing of the event.
NHSMA would also like to extend the opportunity for your business to participate as a sponsor and display a banner on the inside perimeter of our display tent. Sponsorship fee is based on $5.00 per square foot with each sponsor supplying there own banner.
This event has the potential to bring over 40,000 spectators over the 2 1/2 days. If you are interested in either displaying your sled or advertising your banner please contact either Chad @ (603) 722-7069 or Bud @ (603) 496-5452 to be added to our list. Limited space is available and rules do apply.
We look forward to your continued support and having another wonderful event.
NHSMA Raffle Sled.
This 1987 Panther is this years museum's raffle sled. Tickets are on sale now. The drawing will be held at the grass drags in October. Please feel free to contact any us if you'd like some!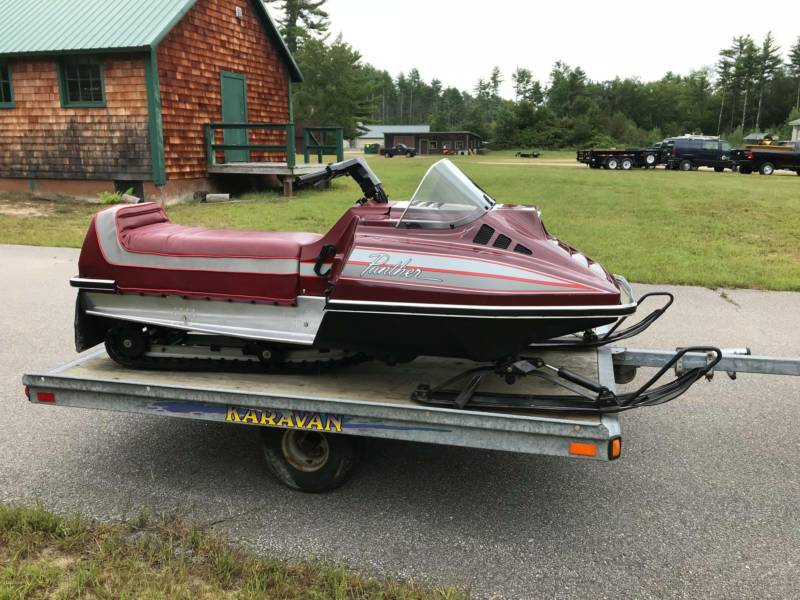 Special Thanks to all of our sponsors!
SkiDoo and daSilva (Moultonboro and Hampstead) were able to supply us with special edition Museum Hats this year.
First 50 participants who register get one.
We have also had a lot of support from HK Powersports, Freedom Cycle, Seats by Ev, Claude's Cycles, Rjs rpm Dyno tuning Rochester Sports Center and Livingstons.
These events would not be possible without people like these.