The 36th annual NHSMA Winter Rally is going to be an online event, Feb 20-21.
Feb 20 at 8 AM EST – Feb 21 at 8 PM EST
Challenging times, call for creative ideas, and the directors of the NHSMA are happy to bring the 36th Annual Winter Rally to your back yard!
We'll open it up on Saturday morning, 2/20 at 8am, and close it out on Sunday, 2/21 at 8pm.
There will be prizes for these three categories by popular vote: Best of show featured sled-which is any brand rear engine, Best of show non-featured sled, and a new class for us-the Best Rat sled. Votes will be tallied, and the winners will be announced on Monday evening.
A free T-shirt will be awarded to the first 50 entrants, and arrangements can be made to pick them up, or they can be mailed ($10 S&H).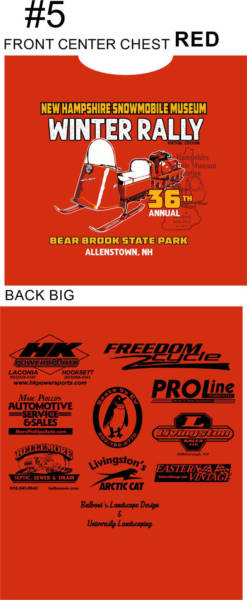 You can enter as many times as you'd like, but only one will qualify for a free shirt. We will track the votes by how many "likes" each photo gets.
The rally is open to anyone, and if distance has kept you from us, here is your opportunity to join in the fun!
There are 3 simple rules:
1. The sled MUST BE YOURS
2. Only ONE photo per entry
3. You need to be sitting on, or standing beside the sled for verification purposes